Our Christmas donation went to the NGO Initiative Leben leben e.V. for the support of education and vocational training of orphans in Kenya.
Since 2007, Initiative Leben leben e.V. has been helping orphans and half-orphans as well as very poor families in Kenya. The focus is on the school education of the children and later also on the vocational training of the teenagers.
Since the children and teenagers mainly have their family home far away from the educational institutions, they need accommodation nearby for the time of their education.
Many primary/secondary and vocational schools do not offer boarding school accommodation, and housing is expensive and difficult to obtain. Therefore, the NGO Inititative Leben leben e.V. is building a boarding house for 30 children and young people. The boarding house shall be operating by the beginning of next semester, in January 2019.
With our Christmas donation of 2018 we supported the equipment and furnishing of the Boarding House and are happy that we can make it possible for many children in Kenya to receive schooling and vocational training with our donation. The picture on our Advent calendar was painted this year by Joyce Uchi Rai.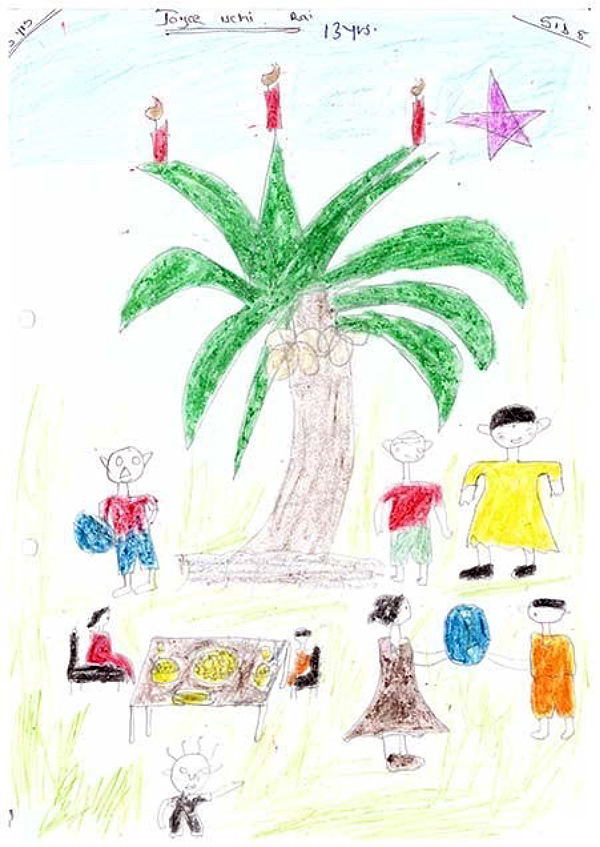 Joyce is a half-orphan from Jorori, Kenya, who is supported by the Initiative Leben leben together with her mother and siblings. Thanks to this support, she is able to attend school for the first time in her life. Joyce is one of 29 children from the Primary School in Jorori who – in a school project for us – have thought about how they imagine Christmas in Europe. Their ideas have all been put on paper with a lot of creativity and great ideas.
Further information about this great organization can be found at www.initiative-leben-leben.de. information brochure on sponsorships can be found here.